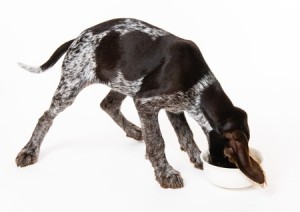 You've heard the stories about Olympic athletes, and the seemingly insane amount of food they consume as part of their training regimen. The fact is, bodies that are expected to be as active as these athlete's need much more fuel than average to continue to perform at a higher level.
Of course, the same holds true for bird dogs. They need to be fed differently than your typical pet dog because they are required to maintain a much higher level of endurance, tirelessly running for long periods while maintaining heightened senses.
That being said, all dogs are much different than their human counterparts. In fact, there's a long list of foods commonly eaten by humans that are potentially dangerous if ingested by a dog. Dogs are carnivorous animals that operate best when metabolizing fat and protein. Furthermore, coming from the wolf family, dogs are better suited than humans to gorge on large amounts of food, waiting longer periods of time between meals.
After all is said and done, most trainers shoot for a source of nutrition with about 30% protein and 20% fat for high performance bird dogs. But the quality of food is a little more complicated than those simple levels suggest. For example, there are many different types of protein, some considered much more beneficial than others. This is the difference between high quality and low quality dog food.
At Valhalla Kennels & Gun Dogs, we feed and recommend Purina Pro-Plan Performance dog food because it delivers high levels of fat and protein derived from high quality sources. We also use supplements like fish oil and glucosamine to maintain joints that can withstand high stress in the field.
We feed our dogs based not on the arbitrary numbers listed on the back of the food bags, but on body condition score. By closely monitoring the condition of dogs, we can adjust their feeding to keep them at their absolute healthiest weight. It's also important to consider other variations, such as the weather. In extreme hot or cold, a bird dog might need a little extra food to keep them going strong.
At Valhalla, we also believe it's important to feed dogs the same way year round, even in an offseason or on down time. It's not a good idea to compromise a dog's athletic condition just to save a buck with lower quality food.
If you're interested in training with our experts at an upland bird-hunting club that caters to both hunters and their dogs in here in Colorado, contact Valhalla Kennels & Gun Dogs today.