Hosted by: Valhalla Bijou Hunt Club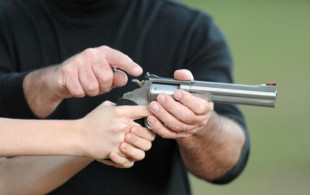 When: Saturday, October 14, 2017
Instructor: Dave Fischer
Description: Pistol knowledge and safe gun handling. Ammunition knowledge. Fundamentals of pistol shooting. Includes hands-on training in how to safely load, unload and clean various types of pistols. Live fire exercise at a gun range is included. Meets the training requirements to obtain the Colorado Concealed Carry permit.
Student must provide: Pistol, holster, and a minimum 100 rounds of ammo.
Agenda:
8:00 to 12:00 classroom break for lunch
1:00-3:00 Shooting range
Cost: $100
Register Online:
Feel free to contact Dave at 303-668-1165 if you have any questions about the course.
Date: TBD Class size is limited, This is a LIVE RANGE FIRE COURSE!
Location: Valhalla Gun and Kennel Club, Bennett Colorado.
Time: 8:00am.
Ammo: 300 rounds minimum
Holster: Concealed carry holster, can either paddle or belt type holster to fit your model pistol.
Safety: Hearing and Eye Protection with be provided, You are welcome to bring your own. Sunglasses are acceptable.
Cost: $30.00/hour per student.
Course Description: Defensive Pistol Course is designed to advance the skills of the Basic Pistol-man. Moving forward with the four basic fundamentals' in mind. This course will focus on concealed holster draws, shooting streams, cover and concealment, multiple targets, immediate action drills, tactical re-loading. A semi-auto pistol is recommended, but if you have a revolver. We can certainly rock with that.
Contact Stephanie at Valhalla (or)
Dave Fischer, (Instructor) 303.668.1165