You spent a lot of time researching dog breeds and checking out litters to find just the right pup to be your new bird dog. You know your new hunting companion will take a significant amount of training to become an amazing bird dog. There are some things you can do now, when your pup is little to help with their bird dog training. Here a few simple tips to help train a great bird dog.
Socializing
Your new pup is a little one so many things might seem scary to them. It is important that you socialize the new pup early. Once your puppy has become comfortable playing with the other people and dogs in your home, it is time to venture out. A puppy class at Valhalla is a great way to introduce new smells, sounds, people, and dogs in a safe environment.  Classes start every Saturday at 8:00. Puppies as young as 14 weeks are welcome to participate.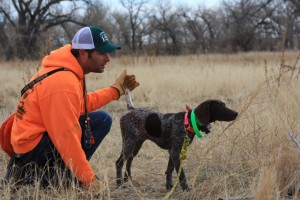 Provide Basic Training
Before learning to do anything in the field, your puppy will need some basic training at home. Begin crate training your puppy as soon as soon as possible.  A puppy should be crated at night and then anytime that you are not home to supervise. When you are home let you puppy spend quality time with the family without giving them run of the house.  We recommend limiting the rooms in the house that the puppy is allowed. Tethering a puppy in the house using a lead and dog bed and teaching them their space in the house is also a priceless training tool down the road.  Having a puppy come to their name is the number one command you should focus on at a young age.  For pointing breeds we do not encourage you to use the "sit" command as that can create problems during the Whoa breaking process. For flushing dogs please avoid the "heel" command too young because it can diminish their confidence to range.  When your dog is ready for more intense training, contact us. We have private and group slots available, and provide training not only for the dog, but the handler as well.
The Great Outdoors
Long before you begin training, you should be letting your puppy explore the great outdoors. You will want them to be using their noses, chasing bugs and shadows, and running the length of the field. If you are in a safe area, we encourage you to let the puppy run off leash to really explore and burn off some energy.  Puppies still need unstructured play time just like children and thrive on being able to take in and be part of their surroundings.
Playing With Birds
We encourage the prey drive in puppies with live birds. Smelling, seeing, chasing, and pointing live birds will spark the desire to hunt. Remember a puppy with a strong desire to hunt is an easier puppy to train for the field.  As we say, "you can always rein them in later".  Don't' be afraid of turning your new puppy into a bird monster.  It will pay off later.
Your puppy needs the right foundation before beginning training as a bird dog. Following these tips will get the puppy on the right path. At Valhalla Bijou Hunt Club & Kennels, we are dedicated to providing you with excellent training for your hunting dog. When you are ready to get started on training or have any questions, feel free to contact us.